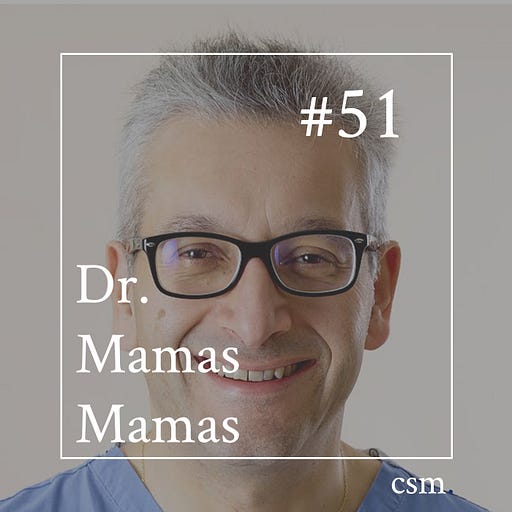 Jan 10, 2020 • 1HR 2M
#51 Dr. Mamas Mamas
Join Shree Nadkarni as he goes through life, testing ways to be happier, healthier, and finding his own passion through interviewing interesting people in the world.
Professor Mamas trained in Medicine at the University of Oxford, undertaking an MA in Physiological Sciences in 1994 and a DPhil in Physiological sciences from 1994-1997. He completed his clinical training at the University of Oxford in 2000. Professor Mamas was appointed as Clinical Lecturer in Cardiology at the University of Manchester (2006) and completed his specialist training in Interventional Cardiology in 2012 and was appointed as a Senior Clinical Lecturer and Honorary Consultant Interventional Cardiologist at the University of Manchester. In 2015 he was appointed as Professor of Interventional Cardiology at Keele University. Professor Mamas is an Associate Editor of Circulation Cardiovascular Interventions and a member of the E-Cardiology working group of the European Society of Cardiology.
He is also a member of the NIHR interventional procedures review panel as well as sitting on several safety endpoint committees of several national randomized controlled trials. He is the Clinical Director of the Centre for Prognosis Research at Keele University, and leads a group of clinicians, data scientists and statisticians whose research interests focus around the use of routinely collected electronic healthcare data to inform the diagnosis, treatment and clinical outcomes of real-world patients with cardiovascular disease. His group uses national audit data derived from the national cardiovascular societies at the National Institute of Cardiovascular Outcomes Research (NICOR; https://www.ucl.ac.uk/nicor), data derived from primary care (Clinical Practice Research Datalink; https://www.cprd.com/intro.asp) as well as large datasets from the US such as the Nationwide Inpatient Sample and National Readmissions Dataset to study outcomes in patients with cardiovascular diseases. His work focuses around studying clinical outcomes, complications and assessment of treatment efficacy of interventions / medical treatments using real world data derived from the national electronic healthcare records of patients with cardiovascular disease, as well as prognostic modeling leading development of risk stratification tools used for national reporting in PCI and TAVR. He has published over 300 peer-reviewed papers using big data in populations with cardiovascular disease.