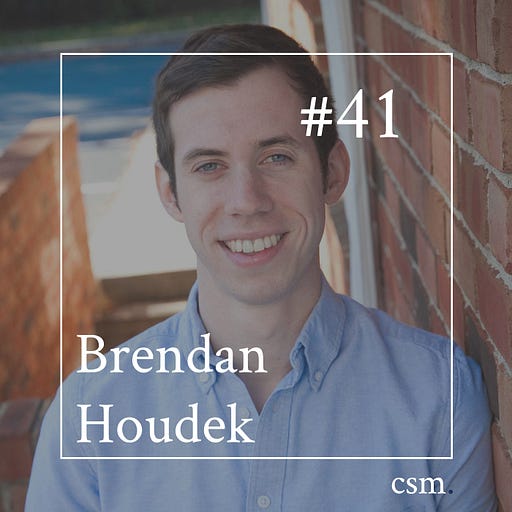 Apr 19, 2019 • 53M
#41 Brendan Houdek
Join Shree Nadkarni as he goes through life, testing ways to be happier, healthier, and finding his own passion through interviewing interesting people in the world.
Have you ever wondered how to speak better and communicate more effectively? It's something that we do every day but it's getting harder and harder to do as we forget the core principles of communication and become lonelier and lonelier due to our focus on technology. I set out to search for people who could help me understand how to communicate better on the podcast or otherwise, and I stumbled into New York Speech and Vocal Coaching. My guest today is a Voice Teacher Associate, and he specializes in teaching a singing voice and is a rehabilitation specialist, which enables him to provide healing to injured singers and proper technique to avoid injury in healthy singers.
One thing that Brendan focused on was the "urgency pulse" which is getting anxiety when there is a need to speak. Speech coaching, the cognitive issues which arise when there is a need to speak is different than speech pathology, which is more of reducing a clinical condition. Brendan explained to me that my verbal ticks were because of this urgency pulse and reducing this by controlling my breathing would be helpful in future podcasts to communicate my point more clearly. This urgency pulse is due to the fight-or-flight response which we are ingrained with in an evolutionary sense.
He was able to rehabilitate his voice by taking part in the NYVC Voice Teacher Training and Certification under the teaching of Justin Stoney. In doing so, he has learned invaluable information to assist him in his voice teaching. The Voice Teacher Training has been the highlight of his career as a voice teacher and musician.
In addition to being a voice teacher, Brendan is also a licensed and certified speech-language pathologist. He is a Speech Coaching Associate at New York Speech Coaching and the Head of New York Speech Pathology. Brendan holds a Master of Arts degree in Speech-Language Pathology from Hofstra University as well as Bachelor of Arts degrees in Speech Communications and Philosophy/Religious Studies from St. Joseph's College, where he also minored in music. We also talked about his own journey and some of the injuries that he saved himself from.