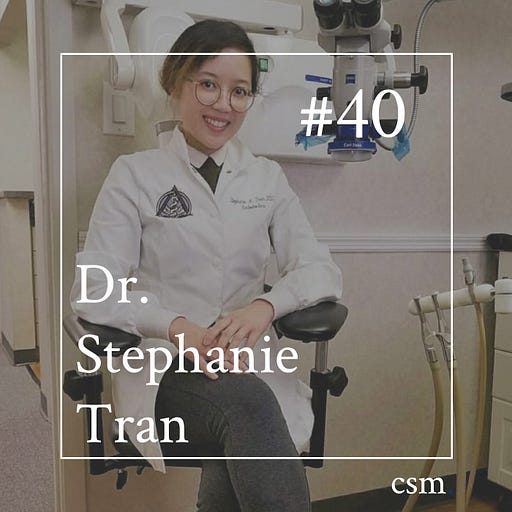 Apr 12, 2019 • 50M
#40 Dr. Stephanie Tran
Join Shree Nadkarni as he goes through life, testing ways to be happier, healthier, and finding his own passion through interviewing interesting people in the world.
What is an endodontist? I was curious as to what dentistry entails and how I could learn more about the part of our body that physicians don't often treat, the teeth and how they connect to the whole body. My guest was Dr. Stephanie Tran, who is a New York based endodontist. She's a big game of thrones fan, something which we talk about in the podcast, but it led her to make her instagram title and bio, which is @her_holiness_the_pulp. If you're a dental student and want to learn more, message @csmedicine and we can arrange a quick Q+A!
An endodontist is basically someone who focuses on the apex of the tooth where the pulp meets the blood vessels of the gum. She works on very cool procedures which help save the teeth and reconstruct the surrounding structures of the tooth. We talked about the craziest cases she has seen in oral maxillofacial trauma, and other tooth trauma when teeth also came out of the socket!
There are a lot of specialties in dentistry as well, and so we talked about her journey in endodontics, and how she chose this one over other specialties like periodontics. However, she also appreciates these specialties and tries to learn from them as she practices. She also accelerated her training, so something that we also go into is how she was able to manage all of her studying as a college student -- some advice that I definitely needed and am going to apply as I go through my journey!
Furthermore, we talk about newer technology that's popping up in the world of dentistry. Have you ever heard of teeth being replaced using 3D technology? It's actually crazy to hear from someone in the forefront of technology in dentistry on how to make dentistry better. It's really cool to see someone who's so passionate about her work and it was a great conversation. I love to see what Dr. Tran does in the future!